This is a departure from my usual content, but I thought a discussion of my experiences with Banks & Ashby (a custom suit company) would be useful because the only information about them online is their webpage.
The summary of my experience: Groupon is awesome, Banks & Ashby is terrible
The details:
My suit collection is largely composed of hand-me-downs from my father. While they are nice suits, my dad is a size or so larger than me, resulting in a baggy fit. This has not been much of a problem because I do not wear suits to work – only for special occasions. However, the near-ish future will require job interviews and the very-near future had a fancy wedding in it.
So I began looking for a new suit. Dark gray. Wool. Around $500. The hard part – I need a size 36 suit. Or a very fitted 38 suit.
Trips to Men's Wearhouse (I always thought it was Men's Warehouse), JoS A. Bank, Macy's, Banana Republic, and J. Crew confirmed that this was going to be a difficult process. Banana Republic and J. Crew do not carry suits smaller than a 38 in stores. Men's Wearhouse and JoS A. Bank would have, literally, six poorly fitting 38R suits and one 36R suit between them. Macy's had maybe three different gray size 36 suits, but they all fit very poorly. Getting desperate, I had Men's Wearhouse order in a 36 suit, but the accompanying pants fit extremely loose, requiring extensive tailoring.
I was around two months out from the wedding when J found a Groupon deal that looked intriguing – a Banks & Ashby custom made suit with two custom shirts, tie, and cuff-links for not much more than the poorly fitting Men's Wearhouse suit. I called Banks & Ashby up to confirm that they could deliver the suit by the wedding on May 12. They said it would not be a problem. I was still leery because I knew nothing about Banks & Ashby. Because Groupon advertises a 100% satisfaction guarantee called the Groupon Promise, so I decided to lay out the money.
A couple of weeks after ordering, I was visited by three young women who took dozens of measurements and asked a few questions how I wanted the suit to look and fit. I told them I wanted a classic gray slim fitting suit. I picked out fabrics for the suit, suit liner, and shirts. I was a little concerned because the "clothiers" seemed more interested in giving me a fashionable suit rather than a classic suit. For example, I got pressured into accepting slanted pockets for the suit jacket. I again confirmed that the suit would be delivered before May 12th. I offered to pay extra for rush, if necessary, but they said it wouldn't be necessary.
In an interesting development, it seems that Banks & Ashby have already changed the process – now you have to measure yourself and pick out swatches online. A cost cutting measure, I supposed. The "Process", as of 6/3/2012:
Still, you can see this is recent change. Not just because they have not noticed that there is no space between 12 and 13. In the "customer service" section you can see this paragraph (taken on 6/3/2012):

So now you have to do 1-7 by yourself instead of getting a personal visit.
It is about seven weeks out from the wedding and I have been measured, selected the fabrics, and conveyed my suit design preferences. Now, I just need to wait. Well, I did change my mind about the slanted pockets and after some ignored emails, talked with a customer service representative and got the pockets changed to the traditional un-slanted angle.
I decided to be proactive about keeping track of where my suit was, since my online status tracker was never updating. I call a month out from the wedding to confirm that my suit will be ready on time. I get a unsatisfying answer along this vein – "if you were promised delivery by early May, then I'm sure it'll come by then". I decided not to be a jerk and press the issue any further.
I called again two weeks out and was told my suit was in progress and should be delivered to Banks & Ashby for final tailoring a few days before the wedding. Which was making me nervous, but it seemed like they were confident I would get it in time.
I called again 9 days from the wedding (a week before I needed it in my hands) and only could get a voicemail – I left a message saying that I needed my suit delivered in a week and to please call me back immediately. The next day I heard nothing but was too busy to call. On Friday I called, over and over, continually get a voicemail prompt. Finally, late on Friday I got a person – who was very surprised to hear that I expected my suit delivered in a week and told me that probably would not happen. The CS women told me she would "call operations" and get back to me soon. Never got a call back. Which would become a pattern.
On Monday, now frantic with the wedding on the upcoming Saturday, I was reduced to sending emails to every Banks & Ashby email address I could find and calling every hour (getting only a voicemail prompt). To my surprise I was contacted by the Operations Manager, later that day. Apparently the CS woman didn't contact him – he only knew I was getting the run-around from one of my desperate emails. He apologized for the horrible service I was receiving, saying it was an aberration and should never happen again. He said he looked into my order and got it expedited so it would be delivered to Boston on Wednesday and in my hands on Thursday. Perfect. Just the response I wanted. I only wished that I got my problem escalated to the Operations Manager sooner.
So, I expected to hear from Banks & Ashby on Wednesday confirming shipment, but I heard nothing. Still, I wasn't too worried since I had the promise from the Operations Manager. On Thursday I also heard nothing – and worse, did not receive my suit!
I began calling Banks & Ashby every hour and only getting a voicemail prompt in response. I again emailed every address I had, telling them that if they did have the suit,to deliver it to the hotel I was staying at by 9 am so I could wear it for the afternoon wedding. I received neither a suit or a response from Banks & Ashby.
On Monday, much calmer now that the deadline had passed, I contacted Groupon to tell them that I was receiving horrific customer service and to please help me. I promptly received a response expressing their regret at how poorly I had been treated. I told them I was going out of town for a week and to 1. figure out where my suit was and 2. help me get compensation for the horrible service I have been receiving.
When I returned from my trip I had an email waiting from Groupon – they had wrangled a tracking number out of Banks & Ashby. I checked it and was shocked to see that the suit was delivered – to the wrong city, on the Tuesday after the wedding. The city where the wedding was. The suit was shipped out on the Friday before the Saturday wedding, from Istanbul, not with overnight service. Were they hoping it would magically arrive on time?
I also had a few voicemails from the CEO of the parent company of Banks & Ashby waiting for me. I got in contact with him – he, like the Operations Manager before, apologized for the horrible service I was getting, and asked how I liked my suit. I told him I did not have it. He, surprised, put me on hold to call the customer service people at Banks & Ashby. He, also, could not get anyone to pick up the phone. He told me he would find my suit and get it delivered to me ASAP. Then we would talk about compensation. I think he was hoping that I would love the suit so much that I would forget about the dozens of hours I wasted trying to get someone at Banks & Ashby to help me.
On Friday my wife called to say that FedEx attempted a delivery. Apparently it was my suit – of course Banks & Ashby didn't bother to tell me to expect it. I, excited to see my custom suit, drove to FedEx that night and picked it up.
Drove home and ripped the box open.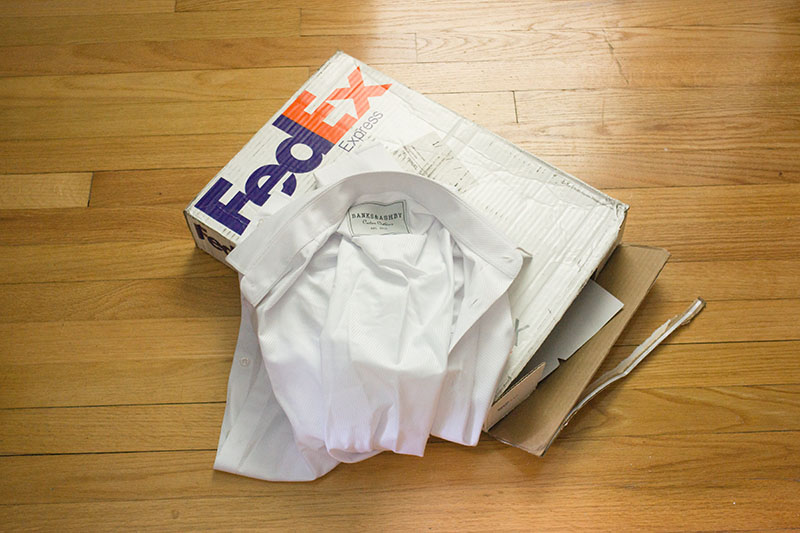 Inside was the suit and (one) shirt. Packed very tightly. You can see how wrinkled the shirt is.
I was supposed to get a suit, two shirts, cuff links, and a tie. So they stiffed me a shirt, cuff links, and tie. OK, whatever – how does it fit?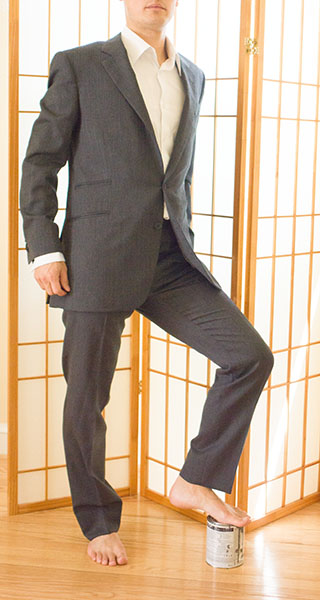 In short, not well. If this was an off-the-rack suit I would have put it right back and kept looking for something better. The pants are skinny-jean tight (see how bunched they look?) and the suit jacket has little taper (i.e., where's my waist?). When I raise my arms I'm surprised how far the jacket pulls away from my body at the armpit. Amazingly enough, they made the jacket with three slanted pockets, instead of the two traditional pockets I asked for. Sigh.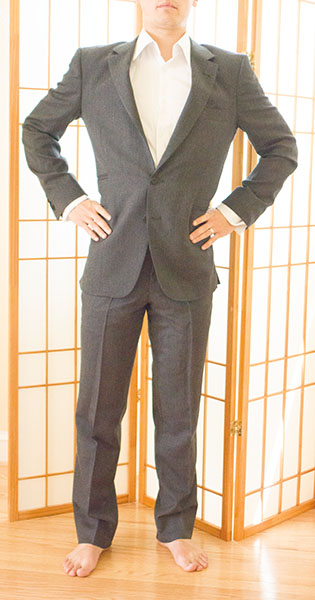 The herringbone fabric of the suit itself is beautiful.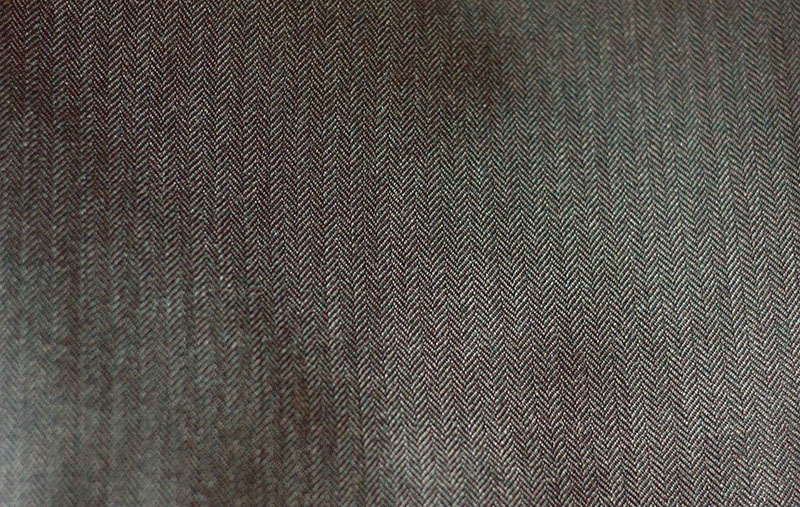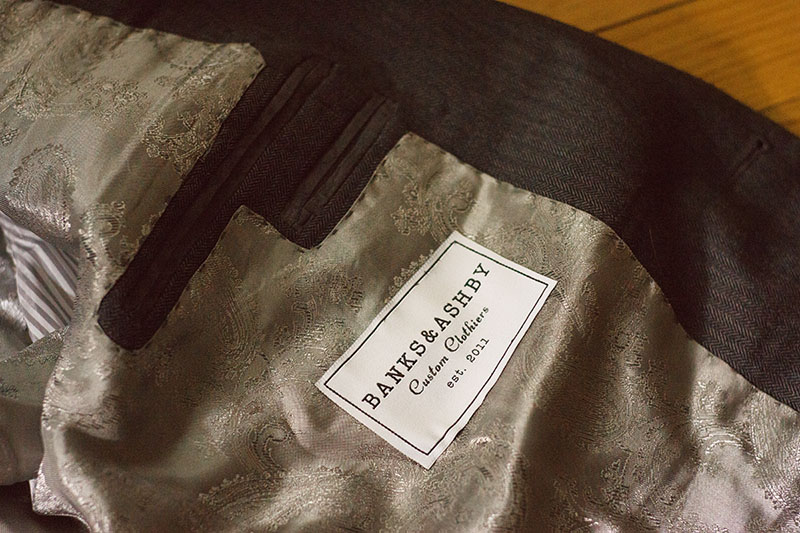 The suit appears to be well-stitched with quality materials. Just fitted very poorly. Disappointed, I contacted the CEO and asked him to get a representative of Banks & Ashby to contact me so I could arrange for a return. Heard nothing back. Surprise! The negligent customer service of this company appears to extend all the way to the top.
Once again, I needed to ask Groupon to get this company to help to me. A few days later, Banks & Ashby contacted me, offering to further tailor the suit, but I was (and am) sick and tired of dealing with problems at every stage of this process. I asked Groupon to give me a full refund – and they very graciously have agreed to give me all of my money back. In 3-10 business days I should be totally finished with this nightmare.
In summary, Banks & Ashby have failed me in three major ways:
1. Did not deliver the suit on time
2. Did not deliver a well-fitted suit
3. Did not provide competent, responsive customer service
Groupon, on the other hand, was amazing. They responded promptly and effectively to my (numerous) issues during this stressful process. They really do back up their 100% guarantee. While I can never recommend Banks & Ashby, I was thrilled that Groupon backed me up, even on this high-priced transaction.